This is a list of active nations in the Empires of Earth Project, including which player(s) are participating as them. Nations are sorted alphabetically based on their full title (e.g. "Free State of Westralia", rather than "Westralia, Free State of") as well as their region (e.g. America, Africa, etc.) and should be added as such.
Player States
These nations listed below are controlled directly by a player.
America
Europe
| Nation | Capital | Player(s) |
| --- | --- | --- |
| N/A | N/A | N/A |
Africa
Asia
Oceania & Pacific
Non-Player States
These states listed below are not directly controlled by a player, this list may not be complete. (This list is currently out of order, this will be corrected at a later time once more of it has been filled in.)
Map of Nations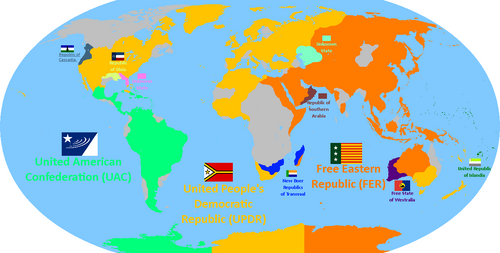 A Google Map version may be found here.